Griffin Plumbing
Building & Contractor
Founded in 2003, Griffin Plumbing is owned and operated by husband-and-wife team Joy and Jeremy Griffin. The company contacted 20|20 to increase growth while expanding their service areas. Inspired by the heroic newsreels of the 1940s, 20|20 developed a comprehensive brand marketing platform that attracts attention and earns new business.
Services Provided
Brand Identity Design
Website Design
Sales Collateral
Reputation Management
Plumbing Horror Stories Campaign
20|20 produced a series of instantly attention-grabbing videos for Griffin Plumbing. The "based on real events" horror theme effectively earns the Central Coast plumbing company above average view rates on streaming platforms and new business from regional target audiences.
Website Design, SEO, & Reputation Management
20|20 redesigned the Griffin website to reflect the new branding and implemented search engine optimization strategies. Soliciting online reviews and producing customer testimonial videos successfully resulted in strengthening Griffin's online reputation and search ranking.
griffin-plumbing.com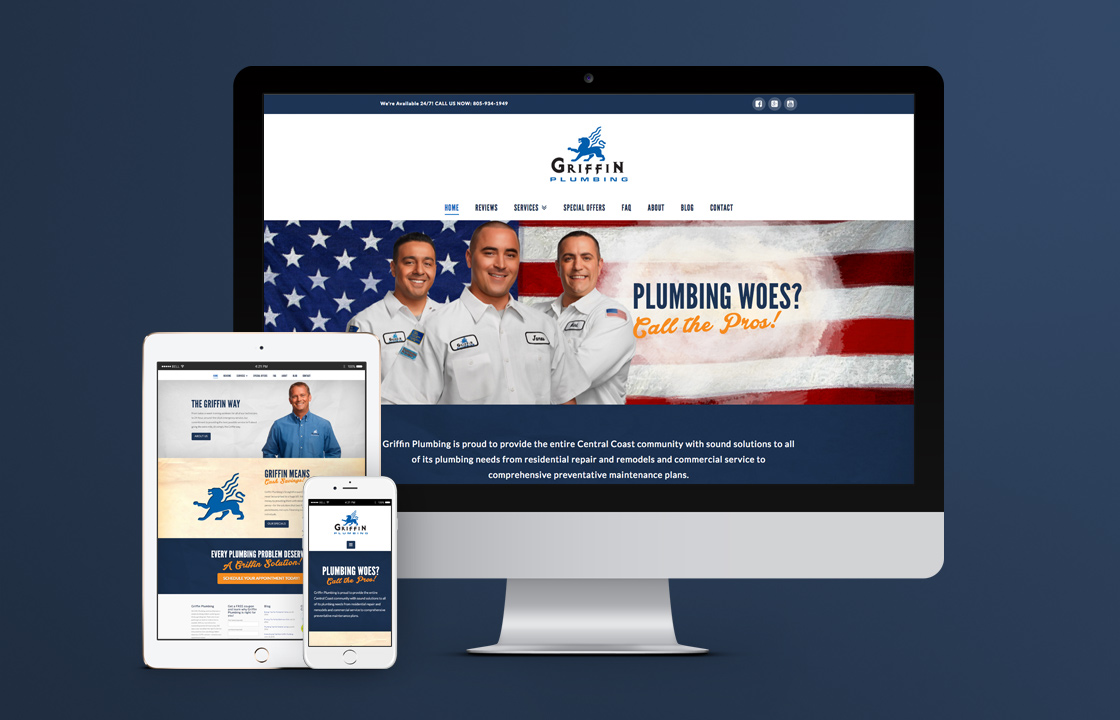 Audio Ads
Captivating newsreels from the 1940s served as inspiration for Griffin's commanding and memorable audio ads. Scripted in Griffin's new brand voice and tone, the streaming audio ads have served as one of their largest lead generators
"20|20 Creative Group was able to take our scattered advertising and rebrand it to bring a clear and consistent message. It is enjoyable to work with them and we appreciate their professionalism. They took the time to understand our business approach and goals, and then created our advertising to meet that approach. Thank you 20|20 for regularly impressing us."
Joy Griffin, Griffin Plumbing