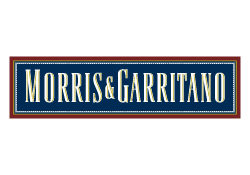 MORRIS & GARRITANO
Professional Services
Morris & Garritano Insurance has served the San Luis Obispo community for more than 125 years. 20|20 updated the brand to communicate the warmth and sincerity the agency shares with their clients. This earnest tone was encapsulated with the simple tagline: "Trust is Earned." 20|20 extended the brand throughout all sales collateral and a new website.
Services Provided
Messaging
Visual Identity
Website
Print
Video
PR
Advertising
Web videos
20|20 produced a series of videos to share the experience of what it's really like to work both with and for Morris & Garritano Insurance. Effectively capturing a culture that's both deeply committed and fun-loving, 20|20 created videos that speak to both potential clients and future team members.
Website Design
20|20 designed a responsive website to clearly outline Morris & Garritano's broad array of personal, commercial, and employee benefit services. The website effectively captures both the company's approachability and compelling history.
morrisgarritano.com
"We have had the pleasure of working with 20|20 on several projects over the years, including most recently the full redesign of our website. They have really invested the time to get to know our company in order to create a brand that aligns with our history, service style and long-term goals."
Brendan Morris, Chief Executive Officer